What does it mean to be a good neighbour? Our HOurbank team were inspired by Jo Cox and want to continue her vision of bringing care back to local communities.
In our most recent task we had our team make a 'Good Neighbours' washing-line, where we asked people to identify who their neighbours were and add what they could do to be a modern-day good neighbour. This was done at the Great Get Together in Union Street and 2 weeks later at Mint Street Music Festival.
A few responses from the 'Who is Our Neighbour? task included:
"People I share any community space with for any time."

"A very lovely group of people."

"People I see on the way to work
Corporately, many companies are also becoming more and more aware of how they can create a sense of community and wellbeing within the atmosphere they host. For example, in relation to the mission to tackle loneliness, Costa Coffee have recently launched a 'Chatty Cafe' scheme over 300 shops nationwide. This entails allowing special tables for people to sit at that allows other's to know they are happy to sit and chat.
Head of Sustainability, Victoria Moorhouse stated: "With loneliness and social isolation on the rise, feeling part of a community is more important than ever. And that's exactly what the Chatty Café scheme is all about – we understand the importance of conversation and we want to help make it as simple as possible for our customers to open up, have a friendly chat and bring local people together within our stores."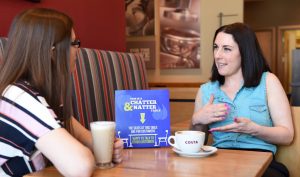 As individuals it takes a conscious decision to remain open to interaction and conversation with those around us, and if we start building community within our local communities, this is a great start to reducing the amount of alienation that people can often feel.
What are your thoughts on how you can be a 'good neighbour'? Let us know of any ideas you have that you think society as a whole can use as a solution to social isolation.
Pictured: The Chatty Café Scheme comes to Costa Coffee at Southwater, Telford. Jodi (left) and Alexandra Hoskyn; the founder (right).
Fancy taking part in the next HOurbank meetup? Sign Up here
Help us to continue building community and skill sharing in the local community