Here at Pecan, we love to support Foodbank attendees in numerous ways. Have a read of one of our most recent case studies where we did just that.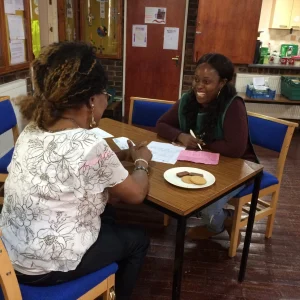 Like many on Universal Credit (UC), our client was required to take work place training as part of their claimant commitment. Unfortunately, the wait between being paid is what had initially led her to use the Southwark Foodbank. Proactive and determined in improving her employment prospects, our client also volunteers at Homestart – a charity that helps to give families and parents of young children the best start in life.
Any time, anyone Receiving a late payment led to our client having no way of buying food, which was of course an extremely distressing experience.
Openly expressing her concerns, she also mentioned she felt the new system was very harsh and unfair. "I've always been able to feed myself and buy food. I can't believe I'm in this situation; there were things out of my control that has also played a part."
As we listened and took time to understand her side of the story, I asked if she had been offered a Short Term Benefit Advance (SBTA). This allows new claimants to receive their first payment quicker and is especially for those in urgent need. We found out this was to be discussed at her next Job Centre appointment.
Food for thought As part of the more than food support, we worked on improving our clients financial awareness by focusing on topics such as debt, credit and the implications of taking loans. I explained it was important to be clear about the terms and conditions of each loan on offer and we spoke about the questions she should be asking about repayments, such as "How much will be deducted from the UC award?" In addition to this, together we created a budget sheet to track all her financial incomings and outgoings accurately.
Coming back with confidence
The following week, our client returned to use the Foodbank again and gratefully expressed that she now felt confident and knowledgeable enough to speak to her Job Centre adviser about the SBTA loan, repayment options, loan amounts and implications it could have on her budget over the length of 12 months.
"Your guidance really improved my understanding of everything. Thank you so much- without your help I wouldn't have known the right questions to ask. It's been great to learn from people who know what they are talking about!"
Our client was extremely thankful to have received extra support from us here at the Foodbank. Although she took out a loan, she was now able to pick one that matched her needs, with repayments she felt were manageable over the next 12 months.
---
SUPPORT US Touched by this story? Looking for ways to contribute to our work with Southwark Foodbank? Why not head over to our Foodbank Page to find out how you can help.