May Newsletter

We want to say a big Thank You to our 5 Ride London cyclists!
A massive thank you from us all at Pecan to:
Richard, Rachael, Adam, Frank and Sally, the 5 cyclists representing us on
29 May at Ride London 2022!
Make sure you keep your eyes peeled and that you're following us on our social media for updates at: Pecan121a on all platforms!
April Feature:
Peckham Pantry
Changes at the Peckham Pantry
The Pantry is making some changes to make sure that our customers get the most out of their
experience. We are adding a comment box so that you can tell us about your experience, any issues or suggestions you may have.
We love welcoming new volunteers here at the Pantry. If you want a new and exciting, hands on volunteering experience, then don't hesitate to fill
Our values
Value – You will always be able to choose a basket that is good value for money.
Health – To offer a selection of fresh, healthy produce that can supplement weekly groceries.
Community – To build member engagement and grow a community around the pantry.
We are closed on…
Tuesday 10 May
 and 
Thursday 2 June
. Except from that, we are open as usual. Find our opening times 
here
Everyone is welcome at the Pantry. There are no requirements or criteria that needs to be met for you to join for free!
Southwark and Lewisham Women's Service
Return to Hub Lunch
The Southwark Soul Sisters prepared some delicious food for out Monthly Hub Lunch on Thursday 28th April. It was a pleasure to eat, listen to music and share stories with the hub members.
We will be holding a monthly hub lunch on the last Thursday of the month at our Peckham Hub. The next lunch date: Thursday 26 May, from12-3pm.
Southwark Foodbank
End of Year stats
Our end of year stats from April 2021 to March 2022 are out!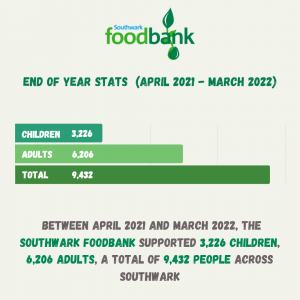 There is a decrease in the number of parcels given out in comparison to April 2020-March 2021 (pandemic), but the April 2021-March 2022 figures are still higher than pre-pandemic figures (April 2019-March 2020).
Food Donations Required 
We would be grateful for donations of baked beans, cereal, tinned fruit and rice donations. Please drop these items into the Southwark Foodbank food bins in your local supermarket or groups and associations can drop off their donations at the Pecan office between 9.30am and 1pm Monday to Friday.
Any questions about food donations and foodbank should be directed to foodbank.support@pecan.org.uk
Employment Support
Employment Service run training twice a month. Our sessions cover: First Aid – Level 2, Paediatric First Aid Level 3, Emergency First Aid Level 3, Food Safety Level 2 and SIA Level 2.
To attend a free training session of your course preference, please contact Gbemisola Oguntuyo-Oloyede, Employment Support Manager.
Tel. 0207 7320 007 | 07946 236 593
Email: gbemisola.oguntuyo-oloyede@pecan.org.uk
HOurBank
The Return of our Oyster Days
We are delighted that our Oysters Days are back. We had a great time on Friday 29 April at the Royal Air Force Museum. 
If you would like to join us on a day out or to be part of our Thursday Discussion Group, then please sign up to HOurBank via Time Banking or contact Peter Aleksin:
email. peter.aleksin@pecan.org.uk
tel. 020 732 0007
Photo courtesy of Sharon, HOurBank member
---
Useful links to campaigns, local organisations and events that aim to transform lives
---
 A reflective thought from a Pecan member of staff:
Starting a new role can be challenging, and a member of staff kindly shared a personal reflection on their experience:
"Sometimes it can feel like we are in a lions' den, about to face some very hungry lions. In the Bible, it was Daniel who was facing these lions when he was thrown into the den.
I think sometimes we can all feel like we are facing a very scary situation, or that something is testing us. But, much like Daniel, we will get through it and to the other side when we trust both in God to look after us, and supplement our own inner strength to face our lions and emerge from the den.
I really was very anxious about starting in my new role. But, I've done it now, and trusted in myself and trusted in God to face the difficulty of the thing that was making me anxious. Of course, everything went OK with help from my amazing team."
---
Let's Connect 
If you have any information to share about local organisations and events that support and empower our community, please email: tracey.francis@pecan.org.uk