A huge congratulations and thank you to our 2017 marathon runners!
At 10am on Sunday 23rd April, over 38,000 people were lining up to cross the start line for the 2017 London Marathon. But we only care about two very special runners, Julian and Simon, who ran for Pecan projects and have raised over £5,000 between them!
Here is a map of the 26.2 mile route!
Although the weather held out, neither had an easy run! Julian sustained an injury in the lead up to the marathon and wasn't able to train as much as he would have liked. He struggled on the day and wanted to stop at mile 15! But, knowing how many people had generously donated, he carried on and finished in an amazing 3:37! He has since gone for his first post-marathon jog and can even walk down the stairs relatively pain-free. Good news all round!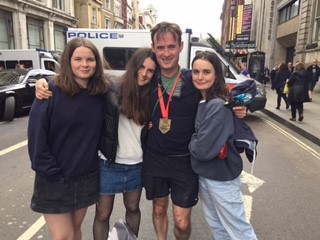 Julian raised money for Pecan's Moving On project (run by his lovely wife, Katie). The Moving On team provide resettlement coaching sessions to female prisoners in London. Julian has smashed his £1,500 target and has raised over £2,300 so far, he and Katie are thrilled! The money raised will really help Moving On expand their community services. Well done Julian! To make any final donations to Julian and Moving On, click here.
Simon started the run feeling great but tripped on a water bottle at mile 4! (Don't litter, people!) The majority of the office maintain that at this point they would have quit the race but, despite his twisted ankle, Simon completed the run in an inspiring 4:14! Thankfully, there was no lasting damage and after having a well-deserved day off on Monday, Simon returned to work in fine spirits on Tuesday.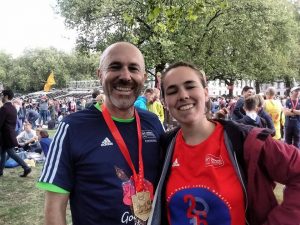 Simon raised money for Pecan's Southwark Foodbank project (he is the Foodbank Manager). The Southwark Foodbank provide emergency food to Southwark residents in crisis. Simon had a target of £2,500 and has so far raised over £2,700! The Southwark Foodbank team are thrilled with Simon's efforts and the money will ensure they can continue their vital service in Southwark. Well done Simon! To make any final donations to Simon and Southwark Foodbank, click here.
A huge congratulations to both Julian and Simon from everyone at Pecan and thank you so much to everybody who donated, your contributions make a massive difference.