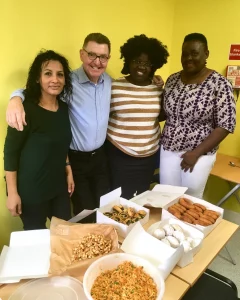 We are thrilled to celebrate our Journey2Work client Belkiz who recently secured a Virgin Money business loan for her Mediterranean catering business 'Bell's Mediterranean Kitchen'.
Belkiz originally started with us on our National Careers Service programme before being referred for more support on our Journey2Work programme.
Overjoyed with the support and progress that she had made, she decided to give us an extra special thanks recently by dropping by with a home-made Mediterranean feast.
Below you can read the full story of Belkiz's journey with us at Pecan.
---
Tell us about your first experience with Pecan and how you found out about Journey2Work?
At first, I (personally) was feeling hesitant to pick up the telephone and make a call to Pecan. It took me almost up to 3 weeks to finally make the initial phone call to the organisation. Having called Pecan one morning, I had the pleasure of speaking to a professional and pleasant individual by the name of Lydia Akinwunmi (NCS Information, Advice and Guidance Adviser). I explained my situation and expectations to her, and she thoroughly walked me through the entire Journey2Work programme. Lydia immediately gave me so much hope, following that one simple phone call to Pecan. I honestly felt so happy, relieved and excited having hung up the phone.
"I finally saw light at the end of the tunnel after 30+ years of attempting to become an entrepreneur in the field that I've always had a strong passion for – it was phenomenal."
During the call I was given an appointment to visit the Pecan office and meet Wilhelmina Quaynor (Journey2Work Manager) face to face to discuss my business objectives and desires as well as the formalities in place for the Journey2Work programme.
How did Pecan help you to kick-start your entrepreneur journey?
I had the absolute pleasure of crossing paths with Ged O'Mara (Business Advisor / Company Secretary), and Wilhelmina earlier this year, whereby I was put forward to Pecan by a third-party vendor, due to my personal circumstances. I would like to sincerely thank Ged and Wilhelmina for their continuous help and support in helping me strive through this journey. Ged supported me from the very beginning. Having explained my situation to him, Ged very kindly offered to step in as my Business Advisor throughout the entire process, even though the programme did not fall within his remit.
"Ged believed in my business idea, and supported it without a single doubt, he strongly encouraged me each time."
Ged helped me in several ways, i.e. completion of several application forms, market research, competitive analysis, product/menu pricing, cash-in/out workflows, business branding/location, footfall forecast, logo design, general business advice etc., the list simply does not end.
I would not have been where I am today i.e. one step away from launching my new business venture if it wasn't for these two business-minded individuals.
"I am ever so grateful to have made that phone call, as it's honestly transformed my whole-life."
Here it is. It was once a beautiful dream, which has now flourished and became a reality, and I am ever so grateful for Pecan, and the opportunity that was given to me to make things happen. I would like to most especially thank Ged and Wilhelmina for their tireless support throughout the process, and a special thank you to Lydia for helping me through the initial stages of the Journey2Work programme. They have all been equally wonderful, and I thoroughly enjoyed collaborating and meeting with the team on a regular basis.
What advice would you give to aspiring business-owners that you know?
I recommend Pecan to fellow friends and family who wish to make their business dreams a reality! I strongly believe that "building a business is not rocket science, it's about having a great idea and seeing it through with integrity", as stated by Richard Branson of Virgin Group.
I would like to wish Pecan, and their staff all the very best in their future endeavours.
Mrs B Zeki
---
To follow Bel's business journey, be sure to follow her instagram page

Find out more about our Journey2Work programme and how to join it