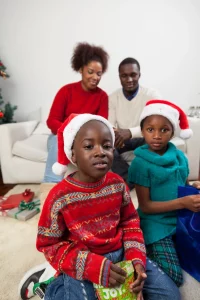 'Tis the season to be… completely stress free with a hot meal on the table, gifts and time with people you care about.
Sadly, this will not be the case for many.
In fact, recent statistics show that
"One million children under the age of 10, in England and Scotland, are facing "Dickensian" levels of poverty as they prepare for Christmas." (BBC NEWS)
Whilst this statistic is saddening, we haven't let it put us off our plans to give thousands more struggling families a decent Christmas this year with the help of our #FeedAFamily18 campaign.
We want to ensure that as few people as possible go hungry during the festive period.
We're excited to be launching and we're looking forward to (once again) seeing tears of joy on the faces of the clients that come through the doors of our foodbank.
How will it work?
With the donations raised via our JustGiving page, we'll be able to provide families within Southwark access to plenteous resources for the lead up to the big day including:
– Christmas food (turkey,brussell sprouts etc).
– Toiletries
– Gifts and Books for children
– Cooking equipment
– Christmas treats
Notwithstanding, funds raised also help us to keep our vital service running in the New Year.
How can I help?
1. Donate We've made things very easy this year. You won't have to bring anything to us and can conveniently donate online. Due to the higher demand in clients, it also makes it much easier for us to manage this way.
2. Share – We'd love it if you could circulate this far and wide to your networks. Giving has no boundaries, and even if you are a non-Southwark resident, every share counts.