Recognising excellence in active citizenship
This weekend Teresa, one Pecan's Information, Advice and Guidance Advisers on the NCS project, received a Southwark Civic Award for her amazing hard work and dedication to the people of Southwark. Teresa received an Honorary Liberty of the Old Metropolitan Borough of Bermondsey. We couldn't be more proud!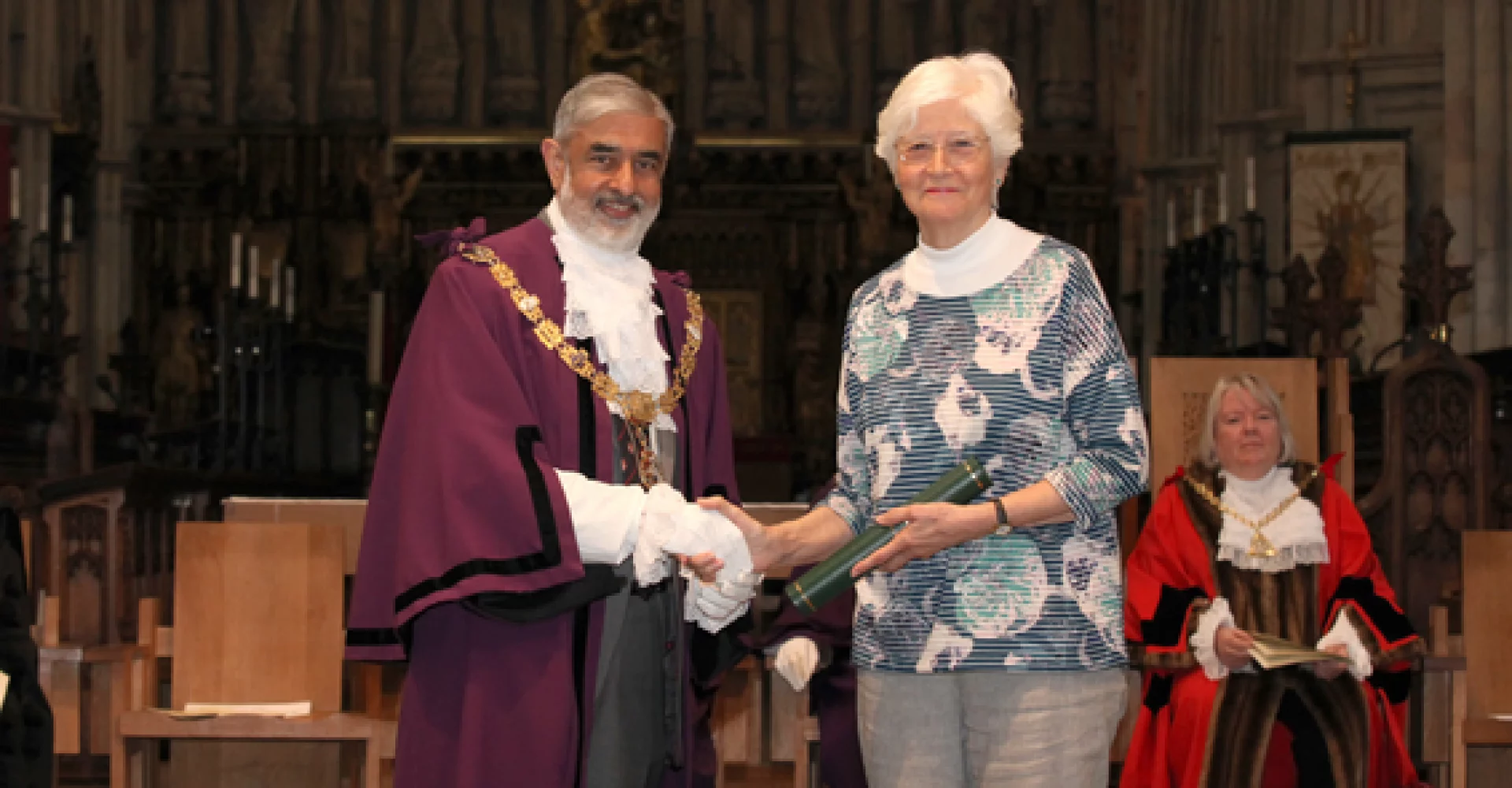 The ceremony took place on Saturday 13th May at Southwark Cathedral and was attended by the The Very Reverend Andrew Nunn, Dean of Southwark. The Dean stated 'As contributors to wellbeing and community cohesion those honoured today are builders of strong foundations. Christians believe that it is only when we build on such solid rocks, rather than shifting sands, that the house will withstand the storm, whatever revolutions we face, locally or nationally.'
Here's why Teresa was given the award:
'Teresa Marshall has been an employment adviser working on a variety of projects for Pecan for 13 years. She has supported thousands of residents to build their self confidence and gain employment. She is an inspiration herself to many people looking for work and she is constantly active and encouraging. As she approaches 70 later this year, her love for her work and enthusiasm for helping people makes her an amazing example of being human to us all. In 2010, Teresa was made redundant from Pecan. She chose to stay on as a volunteer for 6 months until another vacancy became available!'
The Awards were established in 1995 and have been recognising excellence in Southwark residents ever since: 'The Southwark Civic Awards are the most prestigious the council can make, recognising and celebrating the exceptional contributions of a small number of dedicated citizens… With this awards scheme the key words are 'active citizenship' and 'exceptional achievement'. Today we recognise fifteen such people and projects worthy of being singled out and publicly recognised for their generous use of time, ideas, energy and resources for the betterment of others. We pay public tribute to some shining examples of civic mindedness, personal courage, or service to family or community that is above and beyond the ordinary.
On the day, awards were given out in multiple categories and Teresa received a Liberty Award: 'The Southwark Civic Awards celebrate our roots as 'London's most historic borough' by conferring the liberties of the three metropolitan boroughs from which The London Borough of Southwark was formed in 2965 – Bermondsey, Camberwell and Southwark. We recognise exceptional contributions to civic, community or family life by individuals, projects or organisations in the geographical areas they once cove red. The people and organisations being honoured for one of these awards may have given a lifetime or many years of service, or made an exceptional contribution to civic and community life in 2016 alone.'
The motto on the Southwark coat of arms in United to Serve, reflecting the commitment of council staff and public representative to work together as one for the good of the borough. Teresa certainly upholds these values and is well deserving of this award. Teresa was completely surprised and overwhelmed to hear she had been nominated. She had a fantastic day at Southwark Cathedral and is honoured to have received this recognition. Teresa said she has loved working at Pecan all this time and that the grace of God keeps her going every day. She believes that her award makes her work all the more worthwhile. Everyone in the office is incredibly proud of Teresa and couldn't think of anyone more deserving of this award. It is an honour to work alongside her as she continues to serve the community and bring a warm and friendly atmosphere to the office.
*Quotes are taken from the Order of Proceedings for the ceremony on Saturday 13th May 2017.