You are warmly invited to join us for the annual Southwark Church Leaders Conversation and Pecan AGM.
This will take place on Friday 2nd February, 11am-1pm at All Saints Church Peckham, Blenheim Grove, SE15 4QS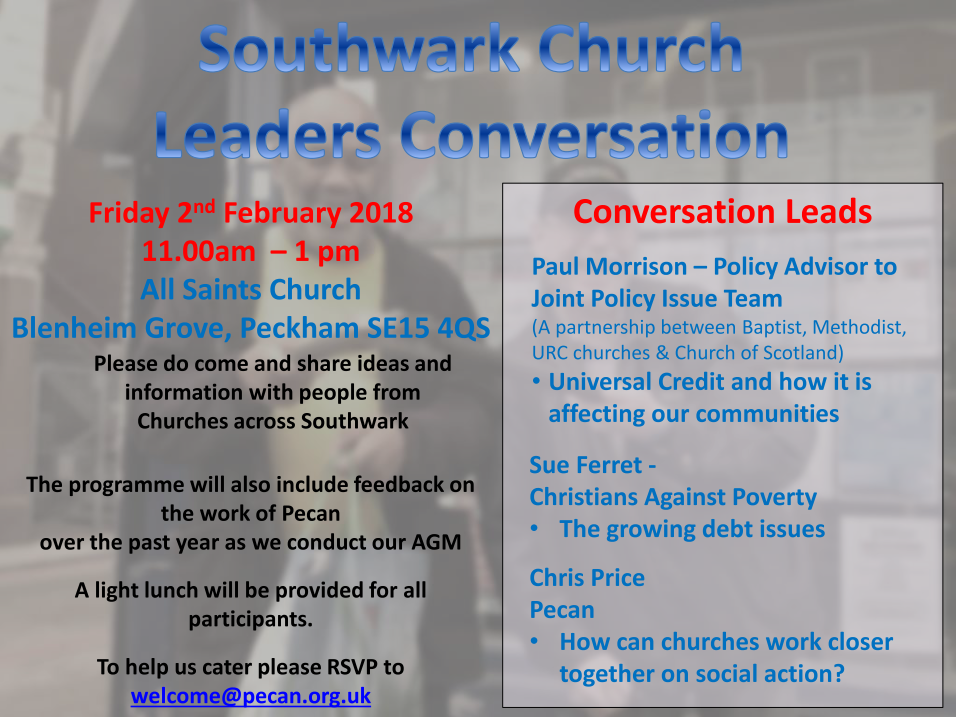 Please do come and share ideas and information with people from churches across Southwark on issues affecting our borough today.
We are very pleased to have a conversation on Universal Credit led by Paul Morrison who is the policy advisor for Joint Public Policy Issue Team, which is a national partnership between the Baptist Church, Methodist Church, URC and Church of Scotland. Paul has been one of the leading voices raising concerns over the structure of Universal Credit in the network of churches. He has printed a number of articled on the subject as well as preparing briefing for MP's on the topic. More information can be found here or here to go directly to one of his articles.
Sue Ferret is going to lead a conversation on debt in the borough. Sue is the Manager for Christians Against Poverty (CAP) in City Hope Church in Bermondsey. She will talk of the issues people are facing when they visit both her centre and the amazing CAP team at All Saints, Peckham.
Chris Price, Pecan's Executive Director, will lead the final conversation where we will look at what actions we can take together to both support people in crisis and influence positive change.
This will be followed by a brief formal AGM for Pecan and a report on our work in the last year.
Finally we will be providing some light refreshments and a time to chat even further!
To help us cater, please RSVP to rebecca.peachey@pecan.org.uk