Give a little joy to your local community and help bring hope into peoples lives this Christmas.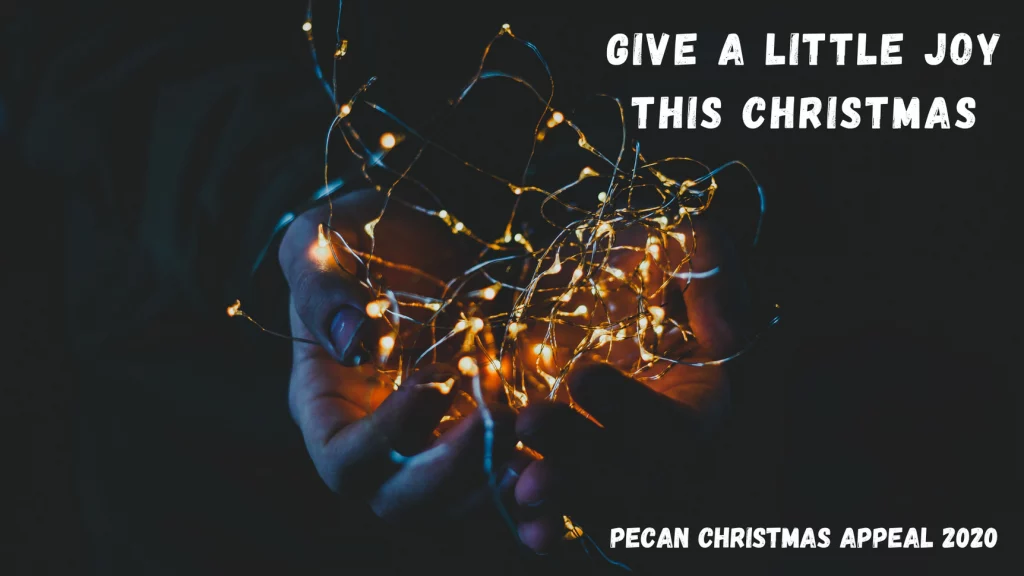 2020 has not been easy for anyone. The people in our community who are disadvantaged and vulnerable to economic and social change have found the past few months particularly hard. The people we support face disadvantage, many types of crisis and multiple barriers in life.
This Christmas, help us to give some joy back to our community through the festive season by giving up something small every day of advent and donating the cost of the small sacrifice to Pecans community projects.
A small sacrifice could make a big difference in someone's life.
You can bring hope to those facing disadvantage, barriers to employment, social isolation and loneliness, and those needing just a little extra support to thrive.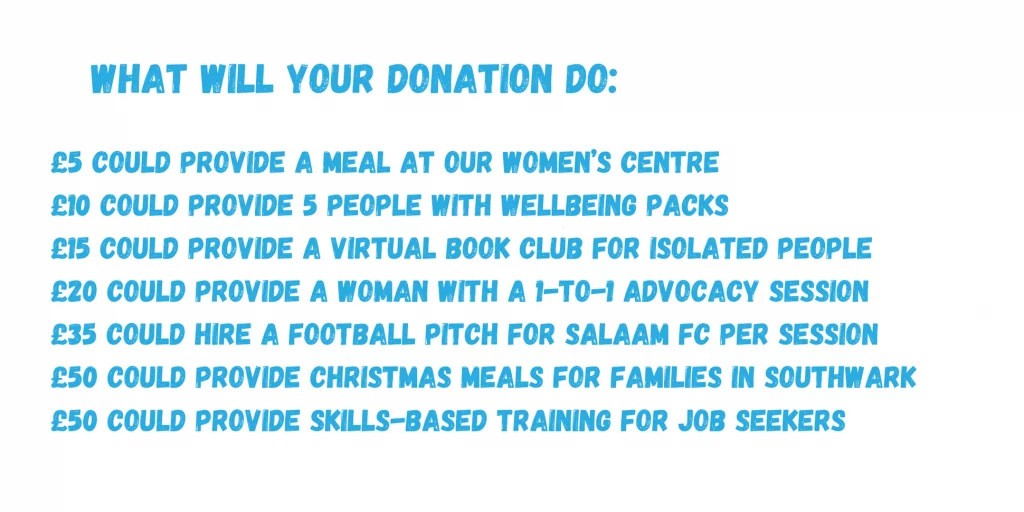 Pecan is an established charity in Peckham, we have been operating for over 30 years, and we are committed to uplifting our local community through community projects that provide holistic support for a range of needs. At Pecan, we aim to uplift our local community through our projects that provide people with the opportunities to find sustainable employment, becoming part of a community of people combating social isolation and loneliness and finding support for those facing crisis who need foodbank support. We provide specialised support for women in contact with the criminal justice system and women who have experienced domestic abuse. Our core belief is Kindness, Belief, and Hope.

For all fundraising enquiries and support, please email Carey at carey.evans@pecan.org.uk
About our projects and the COVID-19 pandemic:
Throughout the pandemic, Pecan has been providing support to all our clients and those referred to us for support.
Womens Service
Our Womens Service has continued support over the phone and from March has sent wellbeing packs to all clients every two weeks. In November, they sent off their 17th wellbeing pack! They have also provided online wellbeing sessions, Zoom sessions and in-person support in the hub from the summer to the 2nd national lockdown, where everything went online again.
HOurBank
From the end of March, the team supported members through call arounds, to check on everyones health and wellbeing. Many members suffered with increased anxiety and loneliness due to the lockdown and the team has supported these people through the past few months.
The team has also sent out monthly wellbeing packs to 130 members to support their mental health and wellbeing.
HOurBank was able to secure 35 mobile smart phones for our projects to give to clients who needed them to connect to online support and phone support.
Employment Support
Have registered 156 people since lockdown, a much lower figure than normal and have helped 50 people into work. 1 in 3 people who have signed on to employment support projects have found work since April.
Peckham Pantry
The Peckham Pantry is a membership scheme where people become members and pay £4.50 per visit to access 10 items of food.
The Peckham Pantry at St Lukes moved to a delivery system in April similar to the Southwark Foodbank, and delivered food to members on a bi-weekly schedule, delivering 60 food parcels every Wednesday in place of sessions. The Pantry reopened to visitors in the summer.
On the 23rd October 2020, the Peckham Pantry opened a 6 day a week shop on Peckham Park Road to support local residents with affordable, healthy food.
Southwark Foodbank
At the end of the 2018/2019 financial year, the Southwark Foodbank had supported 5,907 people, (2,042 children and 3,865 adults). This represented a 20.28% increase in demand, with the foodbank supporting 996 more people than the previous year.
The Southwark Foodbank has supported 11,064 people (4,119 children and 6,945 adults) between April and September 2020, double what we saw in a whole year, in just 6 months.
During the pandemic and first lockdown, the foodbank closed its welcome centres and moved to home delivery virtually overnight, often delivering up 50 parcels per day at the busiest time in April.